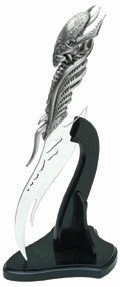 KR0002 Kit Rae's Shadow Slayer
"Forged by the sorceress Moroglien in the shape of the Orwenoch, a
mythical creature of the underworld. When evil touched its blade the
spirit of the Orwenoch was called forth to do battle."
Retail Price : $87.49
Our Price : $65.95


Overall Length
Blade Length
Blade Thickness
Blade Material

Mirror polished 420 J2 stainless steel.

Handle Material
Cast metal, push tang (1/2 length) construction.
Display

5-11/16"

x 6-5/8" x 8-5/16" wood, burned-edge finish.

We carry over 150 different swords. If you don't see what you are looking for here, email us. We are in the process of bringing our entire inventory to the online marketplace.

[ Home ] [ Baelin (Black) ] [ Baelin (Silver) ] [ Isis ] [ Medusa ] [ Nasek ] [ ShadowSlayer ] [ Talisman (Red) ] [ Talisman (Silver) ] [ Tibetan Knife ] [ Umethar ] [ Valdris ]